AFM 2020 Presents Record 571 Exhibitors at Online Event, Shows Serendipitous Moments Possible
Dec 02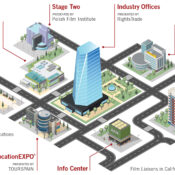 For the past 40 years, the film industry has converged in Santa Monica every fall for the American Film Market (AFM), which drives over one billion dollars in deals annually.
This year, due to the pandemic, distributors, filmmakers, writers, buyers and other professionals instead converged at AFM's new online campus from November 9 – 13. Visitors came from 82 countries – more countries than any AFM in the last decade.
As Encore Media Partners handled advertising around the world for AFM 2020 Online and also attended the five-day digital event, we are sharing some takeaways.
AFM delivers real-time face-to-face engagement, shows chance encounters possible in virtual space
We have visited multiple virtual shows this year. This one was different right from the start. Check out the rich visual interface that greeted you when you arrived.
This gateway to AFM 2020 Online was designed to replicate the various aspects of the physical event. The navigation was very intuitive. You simply clicked on the building that you wanted to visit.
The event featured eight dedicated areas, including two stages for conferences, a networking pavilion, an exhibit hall, an on-demand theater and an information center.
However, the real differentiator for us was the unique, interactive video networking capabilities at the networking pavilion that enabled chance encounters.
Serendipitous moments – those unexpected opportunities to meet people while attending a reception, waiting for a conference to begin, standing in line for a coffee or taking shuttle buses between venues and hotels – are one of the things we miss most about attending shows in person.
So we kicked off our visit with the networking pavilion! The user experience here was simple, engaging and much more fun than navigating a web page.
How did this work? We started by clicking on this building. When we got there, we had a choice of ten "floors". Yes, in case you are wondering… there was a virtual "elevator" that took you from floor to floor. See screenshot of what the floors looked like.
The first floor and top two floors were open seating so you could pick any "table" and have a conversation on anything you wanted.
All of the other floors had a theme. For example, the second floor was for genres i.e. action/adventure, drama, documentaries, etc. so you could pick a table with other professionals who shared similar interests.
We visited multiple floors and sat at a bunch of different tables – "sitting" at a table simply required clicking on one of the tables with an empty spot when we got off the elevator.
There were a total of 180 tables so lots of opportunities to connect with different people. We were able to mouse over the face icons of people sitting at the tables to learn more about them.
When we got to a table, we were able to have a real-time video chat with everyone at that table. The always-on video experience meant once we sat at a table we could start talking right away. We didn't have to go to another app, download anything, etc. It was very organic and easy to engage with new people face-to-face, just like sitting at a table at a physical event.
The tables could also be used for meetings you arranged in advance, and if you wanted to have a more private one-on-one conversation, you could choose a table that was limited to just two people along the side of the room.
One final point worth noting here is that due to the attendees spanning so many time zones around the world, the organizer kept the networking pavilion open 24/7.
On-demand theater delivered similar functionality as in-person event
The organizer provided functionality that let the exhibitors control when their films were available to be screened just like these companies are able to do at the physical AFM.
They could turn the films on and off during the week or decide to show them only on a specific day if they wanted to make an event out of it so that everyone had to see the films at the same time. This second option helps to create the sense of urgency and momentum that are part of the traditional market in Santa Monica and facilitates follow-up with potential buyers.
The exhibitors could also decide which audience segments saw their films, just as they usually can.
The on-demand theater was also open 24/7.
In order to deliver this functionality and due to the need for very high streaming quality and strict security measures, the organizer used cutting-edge technology supplied by SHIFT72 for the on-demand theater.
Online event enables largest ever conference, shelf life extended
The virtual format for AFM 2020 Online enabled the organizer to present 205 speakers across 71 sessions – its largest programming slate ever.
Plus the organizer sourced speakers from a much wider area than possible with the physical event – speakers came from 20 countries.
All conferences were livestreamed directly in the platform across two stages and included real-time Q&A.
The same technology used in the networking pavilion was used here as well which provided more opportunities for visitors to connect face-to-face with other industry professionals and have chance encounters.
The organizer is offering replays of all sessions until December 14 – one month after the event ended.
Organizer runs global digital campaign tasked specifically for virtual show
Several million online ads ran around the world via both traditional publisher-direct campaigns and programmatic online, including paid social, display and retargeting for AFM 2020 Online.
While the goal was the same as always i.e. driving attendance, the campaign was modified to address the different factors at play with a virtual vs. an in-person show.
The advertising flight window was shorter for multiple reasons, including a shorter purchase decision process for attending an online vs. physical event.
As a digital show has a much larger viable geographic footprint in that the audience doesn't have budget issues associated with traveling, the geotargeting was adjusted.
Most people are not familiar with virtual shows so ad spend was specifically tasked against driving awareness of what this new online experience was all about and supported with a nearly two-minute dedicated video asset.
A return to a live event in 2021
Jonathan Wolf, Managing Director of the American Film Market, said he is looking forward to holding AFM in person next year in Santa Monica. He also envisions adding a digital experience which is not competitive but rather complementary to the physical show – one which does not start until the live event has completed. He sees this combo digital / live strategy as a way to attract incremental visitors who would not otherwise attend AFM.
***
Images: Used with permission of American Film Market (AFM). Copyright AFM.
Follow us on LinkedIn or subscribe to our eNewsletter for more marketing ideas!
Posted on December 2, 2020