Cannes 2022 Partners with TikTok to Expand Global Audience
Jun 01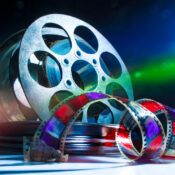 The Cannes Film Festival returned to full capacity for its 75th anniversary which ran May 17 – 28 after cancelling the 2020 event and running a downsized event in 2021 due to the pandemic.
We want to highlight a new marketing initiative by the organizer of the iconic film event that caught our attention – a partnership with TikTok, the short-form video app that has more than one billion users around the world.
"We are delighted to partner with TikTok to share the magic of the Festival with a wider, much more global and just as much cinephile audience than ever before," said Cannes chief Thierry Fremaux.
The partnership had a robust activation which included…
A global in-app short film competition
Cannes and TikTok launched a new global competition, #TikTokShortFilm, inviting experienced and emerging filmmakers to submit vertical short films between 30 seconds and three minutes. Creators were able to use TikTok's creative tools and effects in making their films. The competition has generated more than 4.5 billion views to-date according to TikTok. 
Winners were selected by a distinguished jury of filmmakers and influencers, including TikTok star Khaby Lame (139 million followers), in three categories, Grand Prix, Best Script and Best Editing, and received a trip to Cannes. In addition, the Grand Prix winner received a cash prize of 10,000 euros and the winners of the other two categories received 5,000 euros each. The awards were handed out at a special ceremony at Cannes attended by Fremaux.
Social media influencers descend on Cannes
20 TikTok creators from different countries were invited to the Festival to "shoot, edit and post their authentic Cannes experiences," according to The Hollywood Reporter. When you consider the millions of followers reached by these creators, the Festival gained access to a massive new audience.
TikTok ran programming throughout Festival, which kicked off with a red carpet livestream from the opening ceremony and included exclusive backstage content and talent interviews.
A new platform is added to Cannes' social media mix
The Festival organizer launched its official TikTok account, @festivaldecannes, in March 2022, and as of today it has amassed more than 50,000 followers.
This new partnership helps Cannes reach the next generation of filmmakers by connecting the Festival with TikTok's youth-oriented demographic, which is part of an audience expansion strategy the organizer launched in 2018 with its "3 Days in Cannes" program. For more on this program, see the post we wrote after our visit to Cannes 2018.
Commenting on the TikTok partnership, Fremaux said "With this collaboration – which is part of a desire to diversify the audience – we're looking forward to sharing the most exciting and inspiring moments from the Festival and seeing the Festival reimagined through the lens of TikTok creators and its community."
We are seeing more and more event organizers working with creators and using influencer marketing like was done at Cannes and expect this trend to accelerate as new solutions simplify activation and scale influencer discovery and audience reach.
***
Follow us on LinkedIn or subscribe to our eNewsletter for more marketing ideas!
Posted on June 1, 2022