Original Miami Beach Antique Show 2023 Targets Travelers at Miami International Airport
Jan 05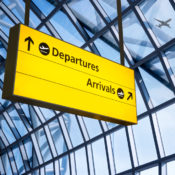 The Original Miami Beach Antique Show will showcase antiques, art, home décor, timepieces and jewelry presented by 650+ exhibitors from across the globe, January 19 – 23, 2023, at the Miami Beach Convention Center.
Visitors to this internationally renowned event, a mainstay on the antique show circuit for more than a half century, will be able to discover highly sought after pieces from famous names such as Louis Comfort Tiffany, Cartier, Hermès, Georg Jensen, David Webb, Andy Warhol, Patek Philippe, Rolex and more.
As part of the cross-platform advertising campaign for the show, the organizer is running an out-of-home (OOH) media program at Miami International Airport (MIA) to reach its huge audience.
While MIA was already one of the busiest airports in the world and the top U.S. gateway for international passengers, when the final numbers are tallied for 2022, it is expected that MIA will set a new passenger traffic record with an estimated 50 million people traveling through the airport.
As Encore collaborated with the show organizer on the development and execution of this advertising, we share some takeaways…
– Launched last month, the campaign will continue through the show, so included exposure across the busy holiday travel window.
– The advertising focuses on driving attendance and targets residents, tourists and snowbirds.
– The organizer is using print displays which provide 100% share-of-voice (SOV) exposure across the flight window for each of the placements.
– All ads feature a QR code inviting travelers to scan the code to get tickets to the show. This digital activation enables the organizer to tie these traditional media placements to the digital world, which boosts engagement by facilitating follow through on the call-to-action (CTA) and enhances the ability to measure performance of the campaign.
– As an alternative CTA for people not familiar with QR codes, the ads also feature a traditional website URL.
– Multiple creative executions are being used to expand messaging. While all ads share a common look and feel, different images highlight different aspects of the show.
– The show organizer is running numerous placements across MIA's North and South terminals to maximize reach against inbound traffic into Miami.
– The campaign uses interior eye-level ad products in high dwell time areas which yield multiple exposures and increase frequency of the ad buy.
The millions of people traveling through major airports like MIA means the opportunity for substantial reach especially against affluent consumers and business executives, who over index on air travel. Plus, the wide range of print, digital and experiential advertising solutions at airports offer substantial flexibility in execution.
***
Follow us on LinkedIn or subscribe to our eNewsletter for more marketing ideas!
Posted on January 5, 2023