Hauser & Wirth Runs Jumbo Ad Unit to Promote their Exhibit at Frieze Los Angeles 2023
Mar 23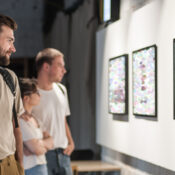 During Frieze Los Angeles, we noticed a jumbo ad unit running on the Los Angeles Times website for Hauser & Wirth, one of the exhibitors, promoting their participation in the art fair, which hosted more than 120 exhibitors from 22 countries, February 16 – 19, 2023.
It was hard to miss the cross-platform responsive ad unit Hauser & Wirth ran not just because of its size and engaging design, but also because of its placement on top of the website and the number of times we saw it across desktop and mobile platforms. The destination URL for the ad was a dedicated page on the Hauser & Wirth website focusing on their exhibit at Frieze Los Angeles.
We highlight this ad campaign because this type of exhibitor-driven marketing not only benefits the exhibitor, but it also provides extra promotion for the show organizer.
While exhibitors can run promotion on their own, show organizers can stimulate this in a variety of ways, including co-marketing programs.
Due to our work in media strategy and buying, we have been involved in numerous co-marketing programs and share five different scenarios that can help you stretch your marketing budget and provide additional value to exhibitors and sponsors.
Leverage your exhibitors/sponsors' media channels. Asking exhibitors to promote their participation in a show may be the oldest tactic in co-marketing but there is still lots of untapped potential here that can be realized with stronger activation strategies. Here are some simple suggestions to enhance activation: offer a mix of creative assets in multiple formats/sizes, including popular display ad units i.e. 300 x 250, etc. so exhibitors/sponsors can easily promote their participation. Make these assets available on your website. Collaborate with exhibitors/sponsors on creating custom assets. Encourage them to promote their presence in their social media, send an email inviting their customers/prospects to visit them at your show and run a "see us at tag" in print media.
Create a special print section for exhibitors/sponsors. With so much focus on digital media these days, it can be easy to overlook co-marketing scenarios based on traditional media like special sections. The execution here involves partnering with a newspaper or other print media brand to create a special section which they publish around the show. Both you and they sell ads to exhibitors/sponsors as well as companies not involved with the show – and you get bonus space based on the amount of advertising that is sold. The section provides an opportunity for exhibitors to differentiate and promote their booth and extra exposure for your show. Our clients have used their bonus space for exhibitor lists, maps, information on show features, FAQs, ticket sales ads and other content.
Enable exhibitors/sponsors to retarget your audiences. Just as you may offer exhibitors/sponsors advertising in your onsite media (exhibit guides, signage, etc.) website and newsletters, consider offering them the opportunity to retarget your audiences prior to and during your show with co-branded online display or video ads.  Use programmatic filters to target the ads to the exhibitors/sponsors' interests.  As your show will be mentioned in these ads, they will provide extra exposure. Make sure to follow the latest privacy regulations and best practices regarding data collection, use and sharing.
Jointly create, share and sponsor content with exhibitors/sponsors (b2b shows).  High quality, engaging content marketing – articles, infographics, videos, etc. – supported by a hybrid (organic and paid) social media strategy is a great way for trade shows to amplify reach through social sharing.  Work with exhibitors/sponsors to use their thought leadership assets to produce content that appeals to your show's high-value buyer segments and leverage their social media channels to maximize reach through hybrid promotion.  Consider a podcast series to accommodate multiple exhibitors/sponsors.
Geofence exhibitors/sponsors' retail stores (b2c shows). This is a creative tactic for consumer shows to use with exhibitors/sponsors who are retailers to reach potential attendees. Use location-based technologies to draw a virtual perimeter around real-world physical spaces of participating exhibitors/sponsors and serve ads to the mobile devices of people who enter the geofenced area. Run this during your event and the period leading up to it. Consider offering a special incentive in the ads to visit the retailers at the show.
***
Image: Stock photo used for illustration purposes only, not part of Hauser & Wirth exhibit or Frieze LA.
Follow us on LinkedIn or subscribe to our eNewsletter for more marketing ideas!
Posted on March 23, 2023