Global Art Fair TEFAF Runs Outdoor Ads in Affluent Locations Across NYC
Apr 12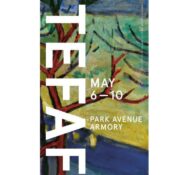 After a two-year hiatus due to the global pandemic, TEFAF will be making a grand comeback in New York, May 6 – 10, 2022, with distinguished galleries from around the world, presenting modern and contemporary art, jewelry, antiquities and design in a soaring 55,000 square foot exhibit hall and additional curated spaces.
"We're thrilled to open our doors again in New York, welcoming guests to an immersive and profound art experience," said Charlotte van Leerdam, Managing Director of TEFAF. "With world-class dealers, and museum-quality material at every turn, this edition of the fair will continue TEFAF's legacy in promoting unparalleled quality and prestige across the artistic landscape."
One of the ways TEFAF is attracting major collectors, new buyers and other art lovers to this fair is an out-of-home advertising (OOH) campaign which will generate millions of impressions in premium locations across NYC. See live, high-res photo of one of the placements not far from the iconic MetLife Building.
As we have handled hundreds of OOH ad placements for TEFAF New York since it was launched, including the current activation, we wanted to highlight this advertising strategy as an effective way to target affluent audiences because we see lots of untapped potential here by luxury exhibitions and events.
TEFAF is specifically using the light pole banner format under the OOH umbrella because it provides granular geotargeting capabilities which facilitate reaching affluent audiences.
For example, the campaign which is now running specifically targets a high-end geographic footprint, including Park Ave., 5th Ave., Central Park West and other locations with high-value residences, hotels and retail. The multi-faceted targeting profile, i.e. both residential and commercial, enables the show organizer to reach both residents and tourists in the market.
An additional benefit of the affluent location strategy for this campaign is that most of the placements were in uncluttered media environments which enables much higher share-of-voice (SOV) than possible with other mediums.
This higher SOV combined with TEFAF's visual, image-centric creative strategy enhance the visibility of the advertising and audience engagement. TEFAF is also running four different versions of its creative to maximize messaging. See full set of ads.
Don't overlook legacy OOH formats when developing visitor promotion strategies for your luxury events as they can be very effective at reaching your audiences.
***
Follow us on LinkedIn or subscribe to our eNewsletter for more marketing ideas!
Posted on April 12, 2022