See Our Post on the TSNN Blog: "10 Online Advertising Tips for Trade Shows to Drive Attendance"
Aug 24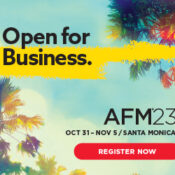 More than 90% of digital display dollars in the U.S. will be transacted programmatically in 2023, according to eMarketer estimates. 
Programmatic online advertising offers trade shows massive reach across millions of websites, videos and apps. Understanding all the solutions under the programmatic online umbrella, best practices in execution and the changing privacy landscape will help you maximize attendance from your digital media investments.
As a media strategy and buying agency, we are involved in programmatic trading daily, and in our first post yesterday on the TSNN – Trade Show News Network blog, we share insights from hundreds of millions of online ads that we have run around the world for major exhibitions and events, such as the one featured to the left for global film industry event, AFM.
Visit the TSNN blog now to see our 10 tips!
Posted on August 24, 2023