Global Film Event Cannes 2021 Launches Festivals Hub
Jul 06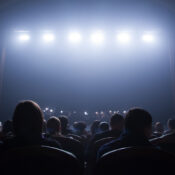 The Cannes Film Festival is back with a live, in-person event which opens today and runs through July 17.
In an email we received today announcing the kick off of the Festival, the organizer said "the emotion was palpable in the Grand Théâtre Lumière for the return of the Festival to Cannes after its cancellation last year due to the global pandemic."
We have received such strong interest in our posts after our ten in-person visits to the global film industry event and our virtual visit last year that even though we are not attending this year, we are still sharing a new program that caught our attention.
The Cannes Film Market, the co-located b2b component of the Festival, has launched the "Festivals Hub", a new space exclusively dedicated to film festival and market organizers at this year's event. We don't often see a show organizer hosting a program for other events so this new initiative certainly stands out.
Developed with input from programmers and directors at more than a dozen film festivals, the Festivals Hub provides a "space to create and promote synergies between film festivals of all types and from all over the world". It also offers participants access to one of the largest audiences of film professionals in the world.
Over the years, Cannes has built a robust portfolio of programs targeting specific segments of the film industry so this new offering fits well with that strategy and targets an audience that includes more than 4,000 film festivals across the world.
Located in one of the exhibition halls, the Hub can be accessed at no extra cost by all festival and market teams with a Cannes Film Market badge.
The Festivals Hub offers several benefits…
Participants have access to a dedicated networking lounge to connect with other festival professionals and meet service providers with dedicated solutions for festivals.
The organizer is offering digital and physical signage packages which can be purchased by participants to promote their festivals enabling them to reach the huge audience of film professionals attending Cannes that are potential participants in their festivals.
Festival organizers can book private tables in the Hub for a separate fee to showcase their initiatives. An enclosed area is also available for privatization in the Hub for hosting private meetings.
The Hub gives participants the opportunity to host in-person conferences on the dedicated Cannes Film Market stages which are set up to record and broadcast live all conferences with replays available on the show website after the event.
Participants can also attend workshops and panels on relevant subjects, including…
– How to Host a Virtual Festival
– Building a Film Festival Network: Between Challenges and New Opportunities
– Festivals and Hybridisation: New Challenges and Parameters
We have seen plenty of promotion for the Hub on the show website, in emails and via multiple posts across major social media platforms so festival organizers and other visitors will certainly know about this new program.
UPDATE 7/15/21: We just saw this new highlights video from the show organizer which was posted on LinkedIn today.
***
Follow us on LinkedIn or subscribe to our eNewsletter for more marketing ideas!
Posted on July 6, 2021