Watches and Wonders 2021 Generates Lots of Views with Social Video, Livestreaming
May 03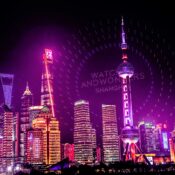 As video is the fastest growing advertising format in the digital campaigns we handle for our exhibition and event clients, we are always analyzing video marketing programs for other shows and the deft use of video by Watches and Wonders 2021 caught our attention.
This pair of major shows held April 7 – 18, 2021 for the watchmaking industry brought together the world's leading brands including Bulgari, Cartier, Hermes, Patek Philippe, Vacheron Constantin and others. Due to the pandemic, the Geneva show was presented in a virtual format this year but the Shanghai show was staged in-person.
We share three digital video activations by Watches and Wonders which performed very well with their audiences based on an analysis of publicly available metrics and those shared by the organizer.
Live Social Video
The organizer staged a unique light and sound choreography featuring 1,000 drones in the skies above Shanghai, which was shown live on streaming platforms and social media.
The "magical night-time display" generated nearly 160,000 views and 4,300 social actions on Facebook alone – consider the value of this earned media.
Generating a high volume of organic video views and social actions is not an easy task due to the huge number of videos competing for people's attention but this type of engaging content is certainly a key driver of scale.
Posting this video across multiple platforms and using a hashtag helps to drive views as well. In a post-show recap, the organizer indicated the pair of shows had close to 360,000 posts featuring the hashtag #watchesandwonders2021.
Super Influencer Livestream
Watches and Wonders tapped Key Opinion Leader (KOL) Austin Li to host three hours of livestreaming and present 11 exclusive, pre-selected watches to his massive audience during the Shanghai show.
Over the past several years, Li has built a following of more than 40 million followers across multiple social media platforms.
Leveraging industry influencers is certainly nothing new for the trade show industry but running a three-hour sales event with one of China's most popular ecommerce livestreamers certainly takes this tactic to a different level.
The organizer's activation strategy here significantly boosted reach and engagement for participating exhibitors.
The Morning Show
Every morning, the organizer produced a live video show, called "The Morning Show", which was a major new feature for 2021.
"Respected guests – CEOs, journalists and watch experts – were invited onto the set, designed to reflect the atmosphere of the Salon, to give their insight on events in an innovative and dynamic format."
The shows ran between 30 – 45 minutes each and had high production value with a look and feel like morning news shows on major TV stations. See replay of the first show.
The organizer also offered 60 second cut downs called "Morning Show Highlights" each day after the show – a tactic we know from firsthand experience with our clients is a great way to broaden viewer engagement.
The Morning Show was simultaneously broadcast in English and Chinese and reached almost 100,000 views on YouTube and Weibo on the first day, according to the organizer.
***
Image: Drone show in the skies above Shanghai. Copyright Watches and Wonders.
Follow us on LinkedIn or subscribe to our eNewsletter for more marketing ideas!
Posted on May 3, 2021