Frankfurt Book Fair Attracts 200,000 Visitors Worldwide to Its Special Edition 2020
Oct 28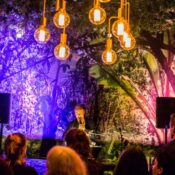 Like many events, the Frankfurt Book Fair, the world's largest book fair which attracted more than 300,000 visitors last year, had to adapt its plans for the 72nd edition held October 14 – 18, 2020 due to Covid-19.
Based on the numbers reported by the fair organizer, their first-ever primarily digital fair resonated well with their audiences. 200,000 users worldwide participated in the fair's digital events, 4,440 exhibitors from 103 countries registered for the digital exhibition and the new BOOKFEST digital generated 1.5 million views on Facebook alone.
We joined multiple Zoom video conferences over the several months leading up to the fair which gave updates on the planning, and attended BOOKFEST digital, so wanted to share some of our takeaways.
BOOKFEST goes digital for first time ever
BOOKFEST, the international cultural festival of the Frankfurt Book Fair, is traditionally a physical event and it was held this year as BOOKFEST city. The organizer also launched a new digital version this year, BOOKFEST digital.
The organizer's goal for BOOKFEST digital was to enable "literature and culture fans all over the world to experience a virtual, moderated spectacle – one like never before – live in their own homes", according to the website.
The program included performances, talks and panels from around the world, and virtual meet & greets with international bestselling authors.
BOOKFEST digital was held on October 17 and featured about 28 hours of programming on two channels which was livestreamed worldwide on the fair website as well as Facebook and YouTube.
"Our strategy of cooperating with well-established media partners and of being present where our target groups are – be it on our own platforms or on social media – proved effective," said Juergen Boos, Director of the Frankfurt Book Fair.
The multi-platform livestream strategy enabled people to use platforms they preferred and of course leverage these sites' native functionality such as social sharing.  This execution significantly amplified reach and the global livestreams helped this event attract a much larger audience than in the past.
The program started early in the morning targeting the Asian region, followed by European events, and then wrapped up with content for America in the late evening.
BOOKFEST city was the only part of the Frankfurt Book Fair that was held in-person this year. It ran October 14 – 18 and offered 77 events representing 110 hours of programming featuring 199 authors, 56 publishers and 11 booksellers at 36 locations across Frankfurt.
Visitors got to meet bestselling authors and celebrities, and experience readings of bestsellers, poetry slams and talks on important issues.
The organizer made it clear in its communications that all locations used for the physical events adhered to government regulations and the health of visitors and staff was a top priority.
Multiple measures were employed, including…
– Locations were capacity controlled.
– Face masks were required.
– Social distancing of at least 1.5 metres was required.
– Participants had to pre-register.
– Contact info was collected for contact tracing should it be necessary.
Virtual format boosts audience size for b2b events too
The organizer indicated they saw increases in participation in the conference program and in the rights trading part of the fair which went virtual this year via Frankfurt Rights, their new platform for the international rights and license trade.
"In the agents center we would typically have 700 to 800 agents working, but our digital Frankfurt Rights platform saw 4,165 people sign up," said Juergen Boos in an October 20 article in Publishers Weekly.
Frankfurt Book Fair 2020 members uploaded 31,100 titles to the platform, which currently has over 400,000 titles.
Another point worth noting is the cost and extended shelf life of Frankfurt Rights – it is being offered free of charge to the trade until summer 2021.
Keeping show plans fluid due to the pandemic
The coronavirus forced the organizer to change the fair program multiple times.
We remember watching a press conference of the organizer announcing the changes they were making so they could hold a physical exhibition this year, including visitor capacity limits, increased aisle widths, etc.
Then several months later they had to change plans again, canceling the physical exhibition due to the pandemic and launching a digital-only exhibition.
The show organizer planned to host in-person events up to 450 people at the ARD Book Fair Stage at the Festhalle at Frankfurt's fairgrounds.
However, just a few days before opening day, they changed plans because of increasing Covid-19 numbers in Frankfurt.
Even though the organizer had approval from local authorities to hold the socially distanced events in the Festhalle, they decided to err on the side of caution and changed the live events at this venue to a livestream. Only the presenters were on site.
We highlight these changes to show how fluid the organizer's strategy had to be in delivering this year's special edition all the way up until the fair opened.
Organizer made heavy use of video and social
We saw lots of videos promoting the Frankfurt Book Fair.  In the four months leading up to the event, we counted over 20 videos on Facebook alone.  They covered virtually every area of the fair. 
They also had some fun with their promotion by being creative with their video content and were rewarded well for it with user engagement.
Their best performing pre-fair video on Facebook didn't focus on the exhibition, sessions, speakers, etc. but rather on something entertaining for their audience.  The video was entitled "Try our new profile picture frame" and generated nearly 182,000 views. 
We noticed strong use of video and robust messaging on other major social nets as well.
Looking ahead to 2021
Juergen Boos highlighted the success of the digital programs this year but also said "At the same time, we all know that nothing can replace a meeting in person. We have learned a lot for the book fairs to come, both in regard to physical and digital events".
We expect in the future to see a hybrid Frankfurt Book Fair, which capitalizes on the best of both in-person and online formats.
***
Image: Used with permission of Frankfurt Book Fair. Copyright Christoph Seubert.
Follow us on LinkedIn or subscribe to our eNewsletter for more marketing ideas!
Posted on October 28, 2020