Diane von Furstenberg Exhibition Uses Content Marketing, with Instagram Overlay
May 01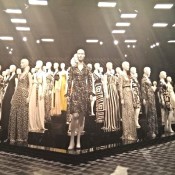 Last week, we visited "DVF 40 Journey of a Dress" exhibition in Los Angeles, which is celebrating the 40th anniversary of the iconic wrap dress created by Diane von Furstenberg.
One of the things that caught our attention about this high-profile exhibition was its use of user-generated content marketing and a follow-on social net overlay.
"From first dates, to first jobs, special moments and everything in between, visit the gift shop to read Wrap Stories from women all over the world.  And don't forget to tell us yours."  This was the message that drove the content marketing initiative, which was promoted on the web site, brochures and prominent signage at the exhibition.
Why did DVF choose these Wrap Stories as their content marketing hook?
Well here is what Diane says on the web site "I was 26 when I created the wrap dress. Its success allowed me to become the woman I wanted to be. Women often tell me why the wrap dress has also been important to them. Now, we are collecting stories and photos from women all over the world."
Content marketing can be an excellent engagement driver… and DVF's target-relevant execution here fully leveraged it.
These Wrap Stories offered both live and virtual visitors the opportunity to engage with the exhibition by sharing their own stories through five Internet enabled stations at the event or via the web site.  These Wrap Stories also provided engaging, "real-life" stories that visitors to the exhibition could read on the above stations.
DVF further leveraged content marketing by adding a social net overlay via Instagram.  Visitors to the exhibition were invited to share a photo of their visit on the fast-growing visual social net using #journeyofadress, and then to come by the Wrap Shot Photo Booth to pick up a print of the photo.
You may be thinking… why Instagram?  Well, check out the engagement metrics from a recent L2 Think Tank report published in eMarketer, and that may give you one of the reasons.
If you are looking for new ways to drive on-site and virtual engagement, and maximize social sharing, consider what DVF did here… it seems to us from our visit they got it right!
Posted on May 1, 2014