Native Ads Are Key Part of Digital Campaign for AFM 2018, Organizer Runs 25+ Million Online Ads
Dec 06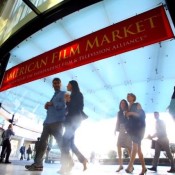 Native ads will make up nearly 60% of US digital display spending in 2018, according to eMarketer, and spend on native digital display is up 31% year over year.
Encore client, American Film Market (AFM), has been using native, a type of advertising that fits the natural form and function of its environment, for several years to attract industry professionals from around the world to the 200,000 square foot exhibition and industry's largest conference series.
Hollywood's largest trade show uses native ads in order to cut through clutter, boost engagement and deliver more meaningful experiences, and allocates a substantial portion of its digital spend to this format.
Here are eight takeaways from the native advertising for AFM 2018 which was recently held in Santa Monica…
– The campaign used multiple native formats, including in-feed display, video and sponsored content, and targeted users across computers, tablets and smartphones.
– Multiple creative assets were used to avoid ad fatigue.
– High-quality, target-specific content was developed to maximize engagement.
– Programmatic native was used in order to achieve scale and control over ad placements, including the ability to map ads to the organizer's first party data.
– Native ad dollars were allocated across the marketing funnel though more investment was made at the top of the funnel.
– A retargeting overlay was used to leverage the native spend.
– CTRs on native display were 2 – 5x higher than average display ads, and peak CTRs on premium native placements (sponsored content) were north of 2%.
– Though cost for native ad inventory was higher than other formats, native spend was very efficient due to strong engagement rates.
Discover new ways to engage your attendees, exhibitors and sponsors by learning about the various formats, channels and solutions providers that fall under the native umbrella.
Then as usual, test, optimize and iterate!
Follow us on LinkedIn or subscribe to our eNewsletter for more marketing ideas.
Posted on December 6, 2018