An Inside Look at 100 Million Online Ads Used to Drive Attendance
Apr 12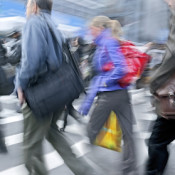 Online advertising generates oceans of data.
This data can help you better allocate ad spend and deploy more effective campaigns to drive attendance but you will only be able to achieve these benefits if you capture, analyze and act on the data.
We recently analyzed a group of over 100 million online ads that we purchased using traditional and programmatic tools across the world for trade and consumer shows between 2015 Q1 and 2016 Q1 so that we can provide the best guidance to our clients.
We share 10 insights with you…
(1) Online retargeting had the highest CTR of all types of interest-based advertising, with Facebook News Feed (desktop and mobile combined) generating the highest CTR, on average 7x higher than web retargeting, and at a substantially lower CPC.
(2) While first-party data drove the highest performance from programmatic advertising, third-party data enabled the campaigns to reach new audiences at a scale and cost efficiency that was not possible with any other advertising tactic.
(3) In-feed native ads on LinkedIn, which were predominantly high-value content assets, generated an average engagement rate of 1.6%.  (Engagement rate is defined here as number of clicks, likes, comments and shares divided by number of impressions.)
(4) CPMs for programmatic ads varied widely based on ad inventory type, with LinkedIn News Feed the highest, followed by Facebook News Feed (desktop and mobile combined), and then large size display ads.  Though CPMs were highest for LinkedIn's in-feed ads, effective cost-per-engagement (eCPE) was very favorable due to strong engagement rates.
(5) We saw significant spreads between our bids and the clear prices we actually paid in auction based ad buys, and virtually all the time, the higher our bid, the higher the spread between the bid price and paid price.
(6) Regardless of buying/payment model (CPM, CPC, etc.), the average effective cost-per-click (eCPC) on our programmatic ad buys was lower than the average eCPC for our site-specific ad buys sourced traditionally through publishers.
(7) There were material variances in engagement based on cookie age, as high as 75% between the oldest and newest cookie pools when we employed wide age differentials.
(8) The 300 x 250 ad unit represented the largest share of impression delivery for display ads, but larger format display ads generated higher CTRs, for example, the 300 x 600 yielded a CTR on average 63% higher than standard display ads we placed, though scale was limited.
(9) Match rates for data onboarding, the matching of offline data i.e. emails to third party online data/cookie pools, ranged from sub 30% to over 65%.
(10) Smartphones had the highest average CTR across all digital ad channels, followed by tablets and desktops.  While metrics varied across ad buys, in aggregate terms, smartphone CTRs were more than 2.5x desktop CTRs for display ads. (Caution: consider "fat-finger syndrome" when evaluating mobile CTRs.)
Follow us on LinkedIn or subscribe to our eNewsletter for more marketing ideas.
Posted on April 12, 2016